Jordan Curtis, PA-C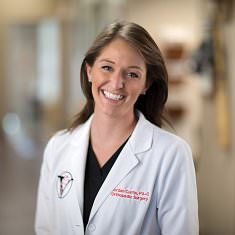 Jordan Curtis, PA-C, received her Master's degree in Physician Assistant Studies from Indiana University in Indianapolis.   She is nationally certified by the American Academy of Physician Assistant's and licensed by the Arizona Regulatory Board of Physicians Assistants.   Jordan worked for Dr. Eric Eifler while she was a undergraduate student, and joined the practice when she finished PA school and became board certified.
This extended historical clinical experience with Dr. Eifler allows for an aligned approach to the patient, and Jordan adds her vibrant personality and engaging smile to give a personal touch to her interactions.   Having worked with Dr. Eifler over the last 6 years, she understands that delivering outstanding customer service and patient care is an essential aspect of our practice.   Jordan truly loves taking care of patients; superior quality and personalized patient care is our priority.
Jordan enjoys the active lifestyle of Arizona, taking full advantage of is hiking, biking and nature trails.   She is a former athlete with first hand experience in sport injuries, and understands the frustration it causes as well as the journey a patient takes to regain their personal best activity levels.   With that experience, she is here to provide care that gets you back to you doing what you love to do.
Jordan Curtis, PA-C
Board Certified Physician Assistant