About
Board Certified Orthopedic Surgeon – Knee & Shoulder Sports Medicine Specialist
Eric A. Eifler, MD is an expert in the field of orthopedic surgery and sports medicine with more than 18 years of experience. He has received recognition as a Top Doctor in Arizona and North Texas. Fellowship-trained in sports medicine, he has specialized training and surgical experience in arthroscopically reconstructing ligaments and restoring damaged cartilage in the knee and shoulder, including PRP and stem cell treatments and allograft transplantation. He treats all aspects of shoulder disorders, such as dislocation, instability, separations, labral tears, and rotator cuff tears.
ERIC EIFLER, MD
Undergraduate:  University of California at Los Angeles (UCLA)
Medical School:  University of Texas Health Science Center (UTHSCSA)
Residency:  Orthopedic Surgery, UTHSCSA)
Fellowship:  Sports Medicine, University of Texas / Jesse DeLee, MD, UTHSC
Board Certification:  American Board of Orthopedic Surgery
Additional Certification:  Orthopedic Surgery Sports Medicine, CAQSM
Awards:
Castle Connolly Top Doctor North Texas
Castle Connolly Top Doctor Arizona
Patient's Choice Award
Compassionate Doctor Recognition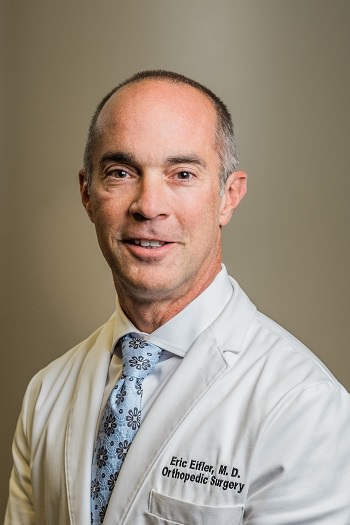 Clinical Philosophy
Dr. Eifler's #1 priority is to get his patients back to enjoying their favorite activities.   Whether supporting a collegiate athlete, a "weekend warrior", or 45 year old software engineer with a new injury, his expertise is customizing a treatment plan for maximum functional recovery.   His experience as the Team Orthopedic Surgeon for Division 1 athletes at the University of North Texas benefits every patient that he sees in the office.
Success for Dr Eifler is looking out for the best interest of the patient, as an athlete today and as an adult in the future.   He understands the expectations of recovery vary depending on the age, occupation and lifestyle of the patient- be it a 40 year-old mechanic or a 75 year-old, retired teacher.
During his time in Texas, Dr Eifler reconstructed the shoulders and knees of high school students that subsequently earned scholarships to play Division 1 football, tennis, basketball, soccer, volleyball, baseball, and softball.   He has helped hundreds of collegiate athletes return to their sports after injury.
Collegiate athletic awards his patients have gone on to win include:
Big 12 Offensive Freshman of the Year
Sun Belt First Team All – Conference
Sun Belt Defensive Player of the Year
Conference USA Defensive MVP
All-Big 12 Defensive Second Team
Conference USA All-Tournament Team
Conference USA Top Goaltender
Weurffel Trophy Nominee
Conference USA First Team All – Conference
National Soccer Coaches' Association of America (NSCAA) First Team All-Region
Dr. Eifler's reputation allowed him to the opportunity to serve as the Team Physician for teams in the National Indoor Football League and the American West Hockey League.   The coaches, players, and parents have come to trust Dr. Eifler for effective diagnosis and treatment of their orthopedic injuries.
"Dr. Eifler has been our team doctor for nine years.   He has treated my son and wife, the other coaches' families, teachers and their families.   We trust him because he speaks to our level. He treats everyone like his family; he does what is best for the kids, regardless what the coach wants.   I respect that approach to care.   When I have an injured player, I tell the mom and dad to do whatever Dr. Eifler says.   I am not going to let him play until Dr. Eifler determines it's safe for him to play.   Dr. Eifler is going to treat your kid like he would his own.'"
– John Walsh, athletic director and head football coach, Guyer High School, Dallas; winner of two state football titles
A Track Record of Excellence
Committed to excellence throughout his education and training, Dr. Eifler distinguished himself during his academic and medical training through the following recognitions and awards:
Magna Cum Laude
UCLA Departmental Honors
UCLA Honors Status
Honors Thesis in Biomechanics
UCLA Senior Merit Award
Alpha Omega Alpha Medical Honors Society
Medical Dean's Research Fellowship
Most Outstanding Voluntary Faculty Award
Dr. Eifler has also shared his expertise, providing clinical instruction, preceptorship, consultation at the following institutions:
University of Texas Southwestern Medical School
University of Texas Health Science Center
Midwestern State University
University of North Texas
University of Texas- Pan American
University of Ohio
University of Wisconsin
Texas Woman's University
University of Indiana/Purdue University at Indianapolis
Dr. Eifler is a member of the following medical associations:
American Orthopedic Society of Sports Medicine
Arthroscopy Association of North America
American Academy of Orthopedic Surgeons
Arizona Medical Association
Texas Medical Association
Lifestyle and Family
Dr. Eifler enjoys the active lifestyle of Arizona. He is married with 3 sons and enjoys many of Arizona's outdoor activities with them, including basketball, golf, trail running, and snowboarding.